Bitter Melon is a acquired taste, but its popular Chinese dish to make especially in the summer.
Ingredients:
2 Bitter Melons
1.5 Tbsp Preserved Black Beans (soaked in 1/4 cup h2o to soften)
1 tsp Ginger
1 clove garlic
1 Tbsp Soy Sauce + 1/2 cup h2o
1 tsp salt
1/4 tsp sugar
1 tsp Corn Starch dissolved in 1/4 cup h2o (for slurry)
Directions:
halve bitter melons length wise, scoop out the seeds in the middle with a spoon, and slice the bitter melon into ~1/4 inch thick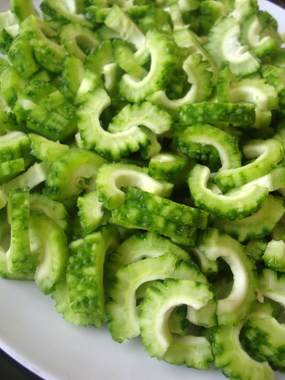 in a large saute pan, preheated on medium high, add 1 Tbsp of oil, add the ginger, garlic, preserved black beans with the water, saute & stir for about 2 minutes to extract aromas.
Add the slice bitter melon into the saute pan, stir the bitter melon to mix with other ingredients.
add in soy sauce + water, salt & sugar, mix to fully incorporate.
Turn stove on low to cook for about ~5 minutes.
Turn stove back on high to bring to boil, and add corn starch slurry mixture to thicken sauce.